Barrier Aluminiu, our system dedicated to designs that stand out
Aluminium windows and doors: top performance, premium design
A high-quality window or door means top features and unmatched performance. Aluminium plating, or aluminium joinery is the Barrier solution for results intended to simplify your life.
Choose to invest in products that are durable, sturdy and practical, all for a lifestyle where comfort should not be lacking.
Aluminium Barrier is a system intended especially for creative, spectacular designs with exceptional thermal insulation characteristics. It stands out thanks to the perfection of the structure, its high strength, modern design, quick installation and high functionality with minimum maintenance requirements.
Why choose aluminium joinery for windows and doors
The advantages of aluminium joinery and our promises
Are you considering to choose aluminium joinery for your doors and windows? Here's why you don't have to wait any longer:
You can benefit from the chromatic diversity and choose any shade from the RAL or special colour range.

You can enjoy the urban, minimalist or classic design and looks; everything can adapt to any type of architecture.

Aluminium joinery with large glazing areas can be designed, manufactured and installed.

You benefit from resistance to mechanical stresses and wear thanks to the exceptional properties of the components of a joinery panel that withstands deformation or breaking.

You have the certainty that the joinery renders the waterproofing more efficient in rainy or extreme weather conditions; the tightness class is given by the pressure at which infiltration occurs inside (according to EN12208-11/99).

The thermal and noise insulation are exceptional, ideal for urban crowded areas.

 In addition, you are protected against intrusion; with values according to DIN ENV 1627, 1630, DIN EN 356 for the glazing, and to DIN18521 for the multi-point closing mechanism.

You benefit from easy installation because the aluminium systems are versatile, adaptable to any type of construction.

You always receive specialized advice; the Barrier team will make you available all our knowledge and we will find the most suitable adaptable system for your space.

We will stand by you from the design to the installation stage.
Swing systems made of aluminium
Operating principle of swing systems made of aluminium
The window panel (sash) or the door pivots around the hinge axis. The entire weight of the panels (glazing + mobile part profiles + mobile part accessories + mechanisms) is supported by hinges, and they are fixed on a structure made of casement and/or tee profiles.
Types of aluminium windows
When it comes to the aluminium joinery for windows, we speak about constructional typologies.
 The fields within a structure can be:
Fixed;

Mobile, with one or two leaves;

Simple, opening inward or outward;

Simple, opening inward, or scissors-type outward, or double opening;

Tilt and turn or swivel.
Types of aluminium doors
The doors, similar to windows, can have one or two leaves.
Depending on the direction of opening of the doors, they can be:
Opening inward or outward;

Opening both inward and outward ("Saloon" type doors)

Fitted with insect screens, installed on profiles.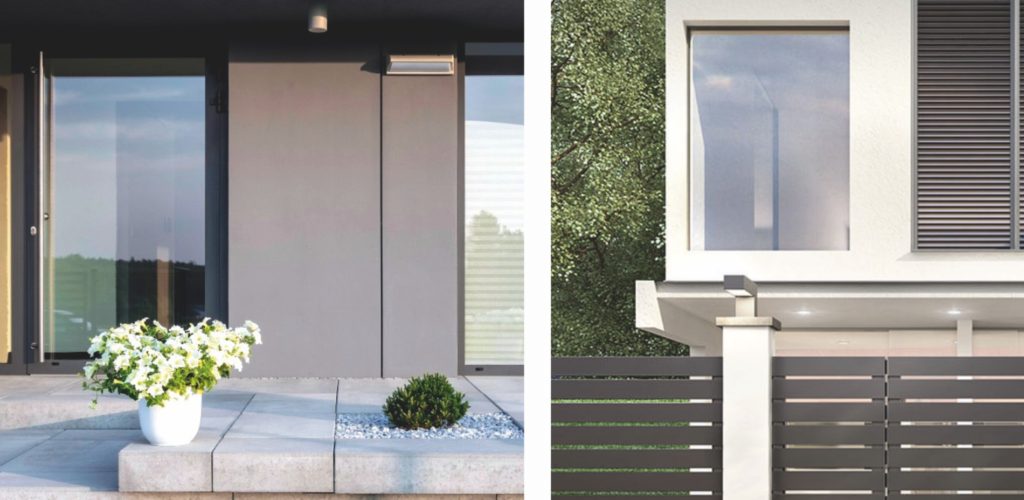 Aluminium sliding systems
Operating principle of sliding systems made of aluminium
When the span is small, a simple sliding does wonders.
The window or door leaf (sash) slides on the tracks of the casement profile on rollers fixed on the bottom of the profile.
All the weight of the leaves (glazing + mobile part profiles + mobile part accessories + mechanisms) is supported, by means of rolling mechanisms, on the track at the bottom of the casement profile.
Door or window leaves can be fitted with thermal insulation glazing, panel or shutter profiles.
Sliding joinery systems can be additionally fitted with insect screens, installed on special profiles.