Barrier solutions for glazing
Thermal insulation glazing for durable and efficient windows
Glazing accounts on average for 90% of the surface of a joinery panel. For this reason, the correct configuration of the glazing unit is very important for obtaining a uniform thermal and noise insulation unit.
For the best thermal and noise insulation, Barrier recommends 3-glass sheet glazing units, with thicknesses between 32 and 52 mm. The thermal spacer rods, made of plastic with steel insert, allow a low energy transfer, eliminating the condensation on the outer perimeter area of the glazing. In addition, the inert gas (argon) insert between the glass sheets provides the glazing unit significantly enhanced thermal characteristics, perfectly adaptable to the specific designs of passive houses.
The cardinal point faced by the window is important for the optimal functioning of the glazing unit. For this reason, Barrier optionally proposes solutions to increase its efficiency. In the case of south or west facing windows, you can opt for a 4S reflective glazing, but also for the use of exterior blinds.
Regardless of the choice made, you will enjoy noise and thermal comfort, better visibility, safety and energy saving throughout the year.
Why choose Barrier solutions for window glazing?
5 features related to comfort and safety
The basic structure of the glazing unit is made up of a Barrier Sun Control glass sheet (outside), a float glass sheet (in the middle) and a Low-E glass sheet (inside). In general, the thickness of the glass sheets is 4 mm (6 mm if the dimensions exceed 1500 mm).
The main advantages that you will enjoy:
44-52 mm glazing unit;

light transmission between 58 – 73%;

noise attenuation of up to 33%;

heat transfer coefficient (Ug) 0.5 W/m²K (with inert gas).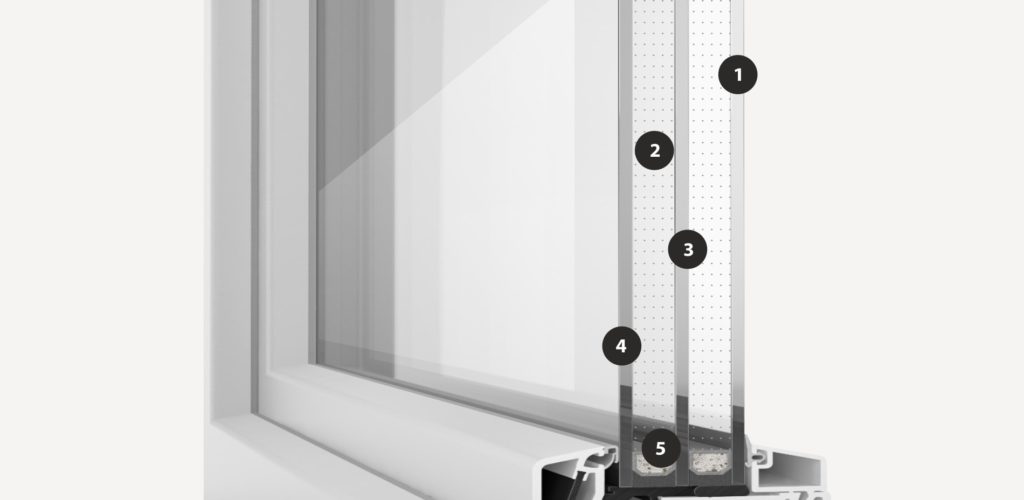 Discover the 5 features of the Barrier thermal insulation windows:
Barrier Sun Control
Barrier Sun Control means clear glass with better reflection, visual comfort and increased solar factor. This solution allows both maintaining an optimal indoor temperature and minimizing the energy costs of the house throughout the year.
The inert gas insert
The introduction of inert gas before the perimeter sealing of the glazing unit has the role of considerably increasing its insulating capacity. The inert gases commonly used in the construction of Barrier thermal insulation glazing systems are argon or krypton.
Middle glass
The middle glass is intended as a thermal barrier between the outside and the inside, all to maintain a truly efficient thermal balance. Thanks to this solution, the Barrier windows make possible optimal temperatures regardless of the weather outside or the season.
LowE inside glazing
The LowE inside glazing has a high insulation capacity and a neutral appearance to keep the design line chosen for Barrier windows. This type of glazing substantially reduces the heat transfer and combats the appearance of mould inside.
Thermal spacer
Each Barrier window is fitted with a high performance thermal spacer. This glass sheet separator placed inside the unit improves the thermal performance of the window and prevents unpleasant condensation.